Why Choose Windle Design & Construction Services For Your Next Home Remodeling Project
When it comes to residential design and construction companies in Merion, PA, there is no better choice than Windle Design & Construction. Our team is made up of passionate and highly skilled designers and builders who have decades of combined experience in the industry.  
That, along with our focus on innovative and functional design and high-quality craftsmanship, means that we will have no problem turning your current home into the new custom home of your dreams without breaking your budget. 
But it takes more than just experience, passion, and expertise to take your vision and turn it into a reality. Interpersonal skills are essential, and we take great pride in spending the time to get to know you and the vision you have for your home. 
We know that close collaboration is crucial to ensuring that the finished product is exactly how you envisioned it, and we will work with you to maintain open communication throughout all the design and construction phases of your project. With Windle Design & Construction, not only will all your input be heard, but you will be well-informed about every aspect of your project's progress the whole way through. 
We are now serving Merion, Narberth, Haverford, Radnor Township, and countless others in the Chester County and PA Main Line areas. So, if you have a home remodeling project in mind, Windle Design & Construction is here to provide great service and superior results that other general contractors just cannot compete with. 
Our Proven Design-Build Method
We know that consistency matters and our proven five-step process ensures that we not only get projects completed on time and on budget but also helps us guarantee the best results possible. 
It all starts with an introductory call where we get to know you and what ideas you have in mind. We will pick your brain until we have a good understanding of all the basics, including your budget and timeline, as well as what you want the final product to look like.
The next step is the in-home consultation, where we will start to take all the pictures and measurements we need to hammer out the details. We will talk to you more about the specifics of your project, and by the end, we will be ready for the initial design phase. 
During this phase of the process, we will use all the information that we have collected to create a detailed 3D rendering of our design so that we can show you exactly what we have planned for your project. 
Once you approve our designs, our talented team of craftsmen and builders will work their magic to bring our designs to life. Then, upon completion, we will walk you through everything we did and give you all the information you need about maintenance and your project's warranty.  
We Can Handle Your Entire Project No Matter What Ideas You Have
We offer a wide variety of top-notch general contracting, design, and construction services that make it easy for our clients to get the home renovations they need, no matter what part of the house they have in mind. From kitchens and bathrooms to unfinished basements, backyards, and more, we have you completely covered. Here are some of our most popular services. 
Kitchen Remodeling
No one wants to have to deal with an outdated and cramped kitchen, and with Windle Design & Construction, you do not have to. We will design and build you an open and modern kitchen that has all the latest amenities and leaves plenty of room for cooking with your family and entertaining guests. 
Bathroom Remodeling
Updating a bathroom is one of the easiest ways to add value to your home and drastically improve your everyday life. We specialize in creating beautiful and luxurious bathrooms that include features like rainfall showers and his and her sinks. No matter what options you want to include, you are sure to get a new bathroom that will bring your morning and evening routines to the next level.
Basement Finishing
Unfinished basements have an unlimited amount of potential, and we specialize in turning them into comfortable, usable living spaces that you and your family can enjoy. From basement apartments and game rooms to home theaters and bars, we can turn your basement into your new favorite room in the house. 
Outdoor Living Spaces
We do not just stop at the inside of your home. We are also great at building outdoor living spaces that will make you want to spend more time outside. Whether from pools and fire pits to barbeques, outdoor kitchens, and more, we can give you an outdoor living area that you, your family, and your friends will want to enjoy all summer long.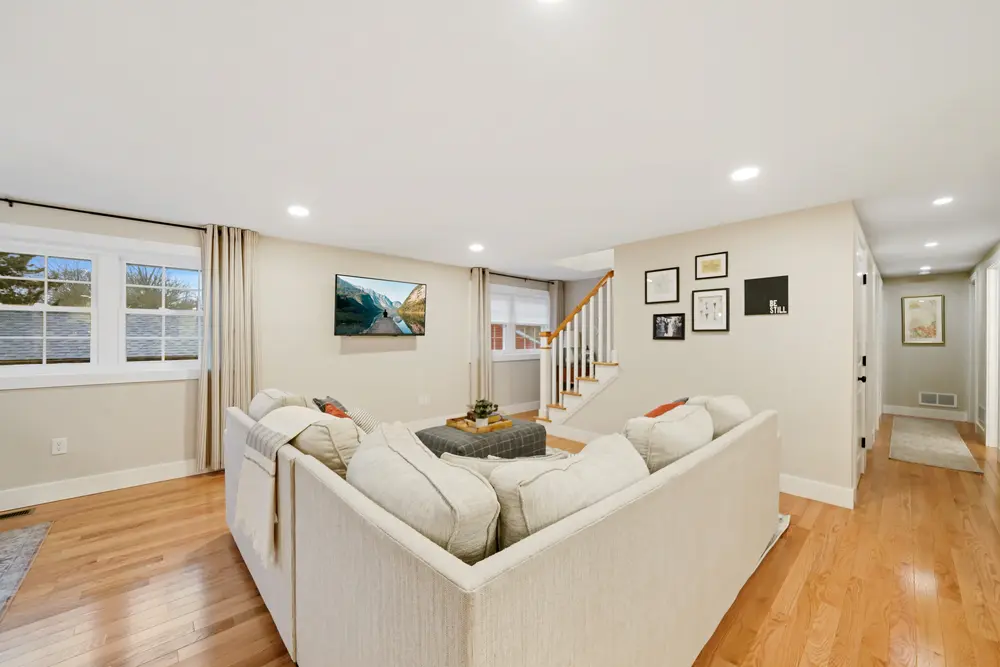 Contact Windle Design & Construction Today!
Are you ready to get your next home remodeling project started? Then give us a call. We will gladly discuss the ideas you have for your home and tell you more about how we can help achieve all your home remodeling dreams. We will even schedule your in-home consultation and free estimate so that you can get your project started as quickly as possible. Do not settle for a home that is anything less than perfect. Call Windle Design & Construction today!