If you're struggling to find local contractors for your new construction project, you can stop looking today! Our home construction company has worked for over 15 years to offer you a fair price and a wonderful job on each project.  Whether you're looking to upgrade your master bathroom or your kitchen, we offer a professional and friendly service that makes us stand out from other contractors in West Chester, PA. Find out everything you should know about our general contractors on this page!
What Services Do Our General Contractors Offer?
We aim to be a full-service remodeling company in West Chester County. Our project manager and our workers have all the tools and resources necessary to ensure an excellent job, regardless of what you need. Our most popular services include: 
Kitchen Remodeling

Luxury Bathroom Remodels

Basement Finishing

Stucco Remediation

Outdoor Living Projects
There's no project too big or small for us, if you want to get a basement remodel, or you're feeling creative and want to create an outdoor kitchen for you and your family, we can make it happen for a reasonable price.

Do You Truly Need a Remodeling Service?
This is one of the most common questions we get asked by people. Whether or not you need a general contractor in West Chester will depend on the current state of your property and your needs. Some people call general contractors because they want to make the most out of their property. Other people may want a general contractor to update an old area in their home. Either way, if you're looking for quality work, we're extremely pleased to say that we can make that happen. Another factor that may influence whether you should call a general contractor or not is your budget. Thankfully, our general contractors have a wide range of services they can offer for an affordable price. Moreover, you can request free estimates today to get all the necessary project details as soon as possible. Overall, hiring a general contractor in West Chester, PA, will be an excellent choice for the following reasons:
Remodeling will make you love your home again.

You will be able to solve spacing issues with rearrangements or other projects.

You can get rid of outdated fixtures.

Remodeling can increase your property's resale value.
What Should You Know Before Starting a Remodeling Project?
Our general contractors can help you come up with the perfect remodeling idea for your property in West Chester, PA. All you have to do is request a free estimate today, and we'll get right to work. However, if you want to get ahead of the free estimates, feel free to consider the following factors before calling our general contractors:
Consider your style and personality. You may either check what the latest home trends are, or you can ask for advice. Today, you can go for transitional, contemporary, modern, traditional, and many other styles.

Include any technology improvements you want in the design of the project.

Set a reasonable budget for what you want.

Understand the limits that your property in West Chester, PA, has. If you don't know them, our general contractor can help you with that.

Choose the right general contractor for the job.
How Do You Schedule a Home Improvement Project with Our General Contractor?
The process to work with our professionals in West Chester, PA, is fairly easy! Our interaction will start with an introductory call. There, we will learn more about your home and what your ideas are. We will also learn about your timeline, budget, and any other relevant information. Once we're done with the initial contact, we will see your home so that we can review the budget again and set the scope of the project. Then, we will go into the design phase, where our design team will use 3D visuals and renderings to see what your home would look like before even starting the project! Finally, once the design gets approved, we will start requesting permits, ordering materials, and starting the project. We only use the highest-quality materials on the market, so there's nothing to worry about in this area.  Once we're done, we will walk you through everything we did in a final meeting, as well as a warranty folder with information you may need. Our team loves to showcase our projects through our website and social media platforms, so we will arrange a meeting with a professional photography team to take pictures of the finished project.
Who Is Behind Windle Design & Construction?
We're a family-owned company, and while we started with only family members, our current team is filled with professional and friendly people who will be able to take your projects to life. Feel free to go to our website to discover more about our team and what drives us to create beautiful remodeling projects for you and your family.
Is There Any Way to Check Your Previous Projects?
Yes! Our website has a section where you can take a look at some of our previous work. We believe that references play a big role in your decision, so we wanted to make sure you could check what we're capable of before hiring us.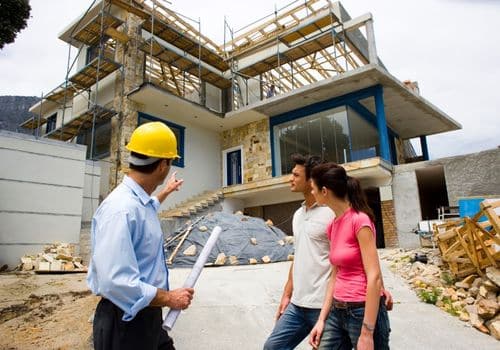 How Do You Know We're the Right Contractors for You?
There are many contractors on the market, so what makes us special? While we're not claiming to be the best, we do assure you that we have all the resources necessary to make your home in West Chester, PA, a more pleasant one.  Whether you have an old house that you want to renovate, or you already have a nice property that you want to refresh a bit further, we're the right people for you. You can check our website for project references, contact information, and more.
How Can You Contact Our Team?
If you want to get in touch with our general contractors in West Chester, you can send us an email at info@windledc.com, call us at 484-319-5748, or visit us at 331 W. Miner St, West Chester, PA 19382. On the other hand, if you don't mind waiting for a bit, you can fill out our contact form with all of the information you need, and our general contractors in West Chester will get back to you as soon as possible.
Bottom Line | Hire Our West Chester, PA, Remodeling Contractors Today!
We're known for having great communication skills, professional project management, and friendly service. If you're looking to give your home that new and refreshed look it deserves, you're only one step away!  Request a consultation today, and let's work together to bring your ideas to life.